On my May 1st entry: Excellent Move Mr. Schroepfer!, I listed some of new features for FF 2.0, including Extension/Themes UI (user interface) change. This new feature is part of the Bon Echo Alpha 2 milestone release. No more separate interfaces for extensions and themes. Instead there is a new Add-ons UI where the management of extensions and themes are integrated together into one simplified interface.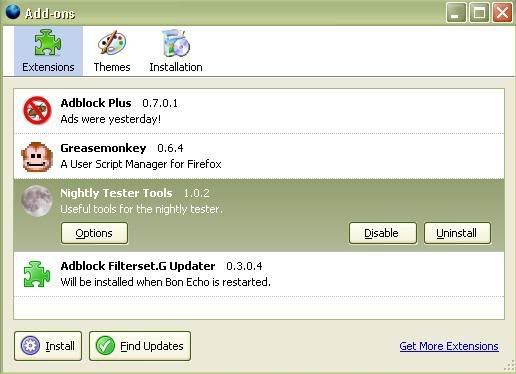 Click Image For Larger View
New FF 2.0 Add-Ons UI
Some changes to this interface include listing installed extensions and themes in alphabetical order instead of the order they were installed in. Note: Adblock Filterset.G Updater is out of sequence as it was just added and is not yet 'installed'. In addition, it is now possible to disable extensions without having to restart in safe mode. This is useful for problematic extensions or if you don't want to use an extension but rather not uninstall it. You will still have to manually restart Firefox for the change to take effect. While on the subject of restarting…

Click Image For Larger View
New FF 2.0 Add-Ons UI with Installation Tab
Whenever you install and extension or theme, the installation will appear in a new tab on the Add-Ons window. The 'Installation' tab will show extensions and/or themes that were just installed in this current browser session. A neat little feature is the 'Restart Bon Echo' (when FF 2.0 goes live it will be named 'Restart Firefox') button. When you are done installing click the button and the browser will close and automatically restart.
Some others features I am still checking out include:
New search engine infrastructure and UI

Session Management

Inline spellcheck