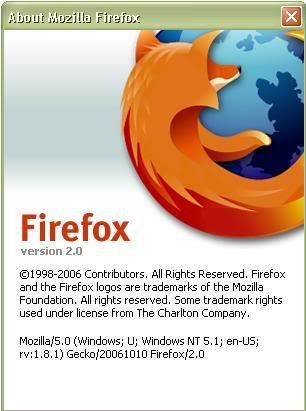 Earlier today, Mozilla put Firefox 2 out on the FTP servers! Now keep in mind this really a pre-release to get the download mirrors ready. The official release on the product page (getfirefox.com) will not be updated until Tuesday around 6:00 PM PDT. Also, the FTP server is overload and/or restricted at the moment so here are some alternative ways to get your hands on Firefox 2 if you cain't wait:
Ryan at CyberNet News >> Download Firefox 2 – Just Released has his download widget for Firefox 2. Select your language and click the button for your OS to download.
On the Mozilla Firefox Product page there is a link Firefox 2 Preview Release. This is Firefox 2.0 RC3 which is almost the exact same thing as the final release.
Just a reminder before you go downloading this release, some extensions still may not be working with Firefox 2. When you first run Firefox 2 it is going to run a compatibility check, after this check it will display a warning with the incompatible extensions. At this point you will be given the option to check for updates. Any extensions that do not get updated will automatically become disabled. Most extension developers should be releasing (if they have not already) Firefox 2 compatible extensions. To manually check for updates go to Tools, Add-Ons, click 'Find Updates' Button.