[digg=http://digg.com/software/Firefox_URL_Fixer]
Without a doubt, typos are annoying! Even more so when the typo occurs in the Fx address bar. The bulk of address bar related typos are usually the very last part of the address. You meant to type mozilla.com but instead you ended up typing mozilla.con and now you are wondering why you are getting an error or your DNS severs search page.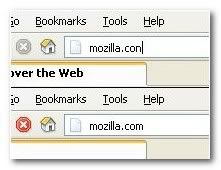 URL Fixer will…well "fix" this. It will automatically review the address you have placed in the address bar and instantly make any corrections so you are routed to where you want to go. It will fix common misspellings of .com, .net, .org, .edu, .gov, and .mil, as well as the protocol (http:, https:). Even better it will also correct errors in country code such as .com.XX, .net.XX, and .org.XX.
This extension does not have an options panel, instead simply click in the address bar. In the context menu select Confirm corrections to allow you to approve the correction or uncheck (default) this option to allow the extension to auto-correct.
URL Fixer is about 10K and works with Fx 1.0, 1.5, 2.0 and be forced to work with 3.0 (via about:config, change extensions.checkCompatibility to false). It also have been nominated extension for a standard feature in Fx 3.