In December AOL announced they would discontinue support of Netscape in February. Now with the release of Netscape 9.0.0.6 comes the official end of support as users will be greeted with this screen with their first launch after installing the upgrade: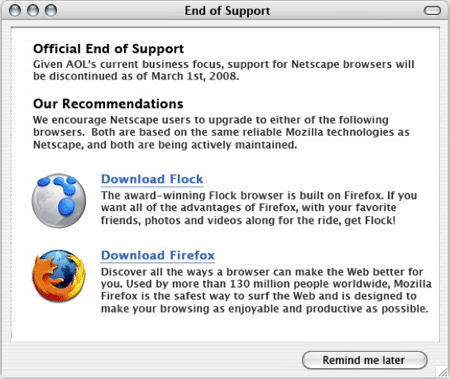 However it turns out AOL is not going to force you to upgrade as the Netscape Blog explains:
The "Remind me later", followed by clicking the "Stay with Netscape" button, can be used in case one wants to keep Netscape 9 after the end of support date. For those who are keeping Netscape, the Navigator 9.0.0.6 release contains the security patches contained in Firefox 2.0.0.12.
From the comments I have seen in the Netscape Blog it appears many users are going to be moving over to Flock. The transition to Flock is suppose to be a "seamless upgrade of your preferences from Navigator 9." Plus there is theme for Flock that looks like a Navigator theme.

For those wanting to go to Firefox 2 take a look at our Tip: Transitioning From Netscape 9 to Fx 2 article for more information.

News Source: Computer Love