October 2008
Three new Get A Mac ads:
Bake Sale – PC finds a creative way to get money to fix Vista's problems.
Bean Counter – Who says you can't fix a problem by throwing money at it?
V-Word – There's a new naughty word and it begins with 'V'

Just when you thought it was over the Microsoft-Yahoo merger, take over or whatever it is…any way it is back in the news. The American Technology Research indicated that it is "increasingly likely" that Microsoft would make another bid for Yahoo. Meanwhile a Yahoo investor urges Yahoo to sell itself to Microsoft.

A New & Improved Crash Recovery was added to Firefox 3.1 allowing users to select which tabs and windows to recover when starting up from a crash. This feature however was not included in the Firefox 3.1 Beta 1 Release. Whilst on the subject of Firefox 3.1, after an odd re-occurring crash with Firefox 3.0, I ended up installing Firefox 3.1b1.

Mozilla Messaging released Thunderbird (Shredder) 3 Alpha 3

November 2008
On November 9, 2004 was the first (1.0) release of Firefox. Release in November were Firefox 3.0.4, Firefox 2.0.0.18 and Thunderbird 2.0.0.18. Meanwhile it was announced Firefox 3.1 Beta 2 was coming in early December as well as a Major Update Firefox 2.0.0.18 to 3.0.4 was also coming.

Much to Microsoft's dismay, several 'incriminating' emails has been unsealed as part of the class-action Vista Capable lawsuit against Microsoft. One the emails was between Microsoft and Intel brass which resulted in 'Vista Capable' being changed to benefited Intel. A move that angered HP. Less than a week later there weremore Microsoft/Intel Emails, this time email exchanges between Microsoft's Ballmer and Intel's Otellini.

In case there wasn't enough Microsoft news, the saga with Yahoo! continues. The big news was Yang to Step Down after being CEO only since June 2007. Steve Ballmer announced "We are done…" REALLY! But then haven't we heard this before? So then why by the end of the month, Microsoft is in Talks Again? And speaking of Ballmer, especially when he speaks, and the effects on Yahoo's stock.

Weighing in at hefty 400 pages is Windows Vista For SENIORS, For senior citizens who want to start using computers. Also in the series is Switching to Windows Vista For SENIORS and More Windows Vista for SENIORS. The next edition is only 352 pages. Not sure how interesting the books are but it seems my dealings with Windows Vista, A Year Later seemed to be a popular post.
Private Browsing aka Porn Mode had been on the back burner however, the release of Google Chrome changed that. Firefox 3.1 would include Private Browsing. Speaking of Chrome, for those who liked Chrome's 'new tab' interface (choose to open from Stickies, Most Visited or Recently Visited as well as a list of recently closed tabs) there is the add-on Tracer. New logos for Firefox 3.1 were released by the by the Mozilla Marketing team.


December 2008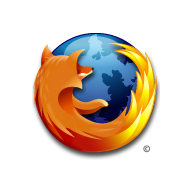 An onslaught of new releases during the month of December:
Big Firefox news included the announcement of a Beta 3 for Firefox 3.1. Plus not only was Firefox 2.0.0.19 suppose to be the last release (Firefox 2.0.0.20 became the final) on the Firefox 2 branch but it would also be losing Antiphishing Protection. Further newer Firefox 3.1 builds started including the aggravating tab tearing feature has caused problems for some users when it comes to dragging to a bookmarks folder. Here's a simple tip on dragging current page to Bookmarks Folder.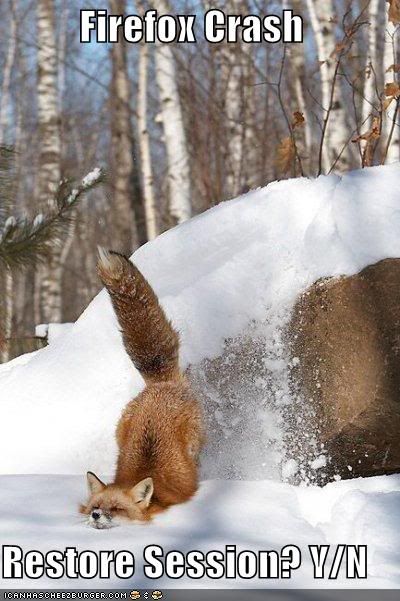 A cute and creative visualization of Firefox's Crash/Session Restore Feature done on icanhascheezburger.com

The beloved computer mouse turned 40! Sure has come a long way from the first prototype above demonstrated in a San Fransisco auditorium.
The above animated (requires Firefox 3.0 or Opera 9.5) PNG snow globes were designed by Ken Saunders and were part of a larger set of Mozilla Holiday Graphics.
As I was wrapping up the Blog Year in Review posts, I ran into something very strange, an unusual Firefox crash when switching (or even going composing a new post) in WordPress 'Visual' Mode. After much trial, error and profile switching I narrowed it down to AdBlock Plus with Easy List filter. Now I did exchange a few emails with the AdBlock Plus developer, but we couldn't really pin-point the problem. Seems my Firefox suddenly won't generate crash reports and Windows Vista retired Dr. Watson. I had to end up removing AdBlock Plus for now. I may get around to reinstalling it again shortly.
---