Epson has long been associated with printers, though when I think Laser Printers; HP, Brothers and Lexmark come to mind not Epson. Growing up we had an Epson printer in the house. Except they were not laser or even inkjet, rather Dot Matrix (or impact) printer the MX-80. Later on we ended up getting an Oki Data printer. My father did eventually get a laser printer. This was in later 80's and I remember you could always tell when he was printing as the all lights in our 1960's California house would start flickering. I am surprised running the printer with a power hungry 80's PC and CRT (tube) monitor didn't trip the circuit breaker. We could not use the microwave and toaster at the same time as that would overload the circuit (of course the house only had may be four or six circuits). At least when me came to Arizona in the 1993 the house built in 1986 had somewhat better electrical system (just the overhead lights flickered an we could use a toaster and microwave at the same time). That laser printer was a Brothers which he did eventually retire when we jumped on the ink jet bandwagon (which we eventually jumped off by 2011). This past summer while watching a football game, I was rather surprised to see Shaquille O'Neal doing a commercial for something other than car insurance, OTC topical pain medication or even Papa John's. I was even more confused to see it was for Epson and it was for their EpiqVision Mini Projector. Not only was this a very different product than I would not have associated with Epson (or for Shaq that matter).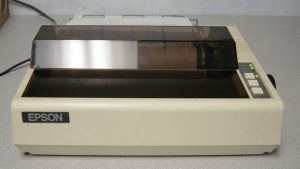 Epson MX-80 Dot Matrix (impact) Printer circa 1980's
There was a time when laser printers were a luxury. High prices pushed them out of the budgets of most homes and small businesses decades ago, but they eventually became more affordable. But now, printer-vendor Epson is turning its back on the technology in favor of inkjet alternatives and self-bestowed sustainability cred.

As noted by The Register on Monday, Epson announced last week that it will stop selling and distributing laser printers by 2026, affecting both its consumer and business users. The Seiko-owned company proudly declared that the move is being done in the name of "sustainability," but the company still has a long way to go in that department.
Here's the issue with the "sustainability" claim: While inkjet printers do use a lot less electricity than laser printers, they are far more wasteful. As I mentioned earlier we had switched back to laser printers. My parents each had a mini HP laser printer and at some point my father bought an HP all-in-one laser printer. I think I had ended up with his mini-laser printer at that time, until I went out om 2011 and bought the same HP all-in-one (was scanning a lot of documents and photos at the time). I still have my printer from 2011 which is still on the same 'starter' toner cartridge (the machine does give a 'low toner' indication, but still prints fine). My father passed about 3-years ago and the printer is still sitting in his desk in his room. So, I have a spare in case mine ever quits working. My mother still her mini laser printer, though I don't think she has used it in the last couple year as she doesn't use the (Windows 8.1) desktop computer it is connect to.
Nonetheless, I have no doubts that if I needed to, I could connect either of those printers to a computer and they would work just fine. If those printers were inkjets forget it. If you don't use an inkjet printer at least once a week or two the ink will dry out (or start leaking). In fact, I bought a wireless ink jet printer when we first move into this house in late 2016. We wanted a color printer and also, both my father and I used desktop and laptop computers so having a network enabled printer was nice. While our HP all-in-one printers did have network connectivity, it was LAN only and our PC's were connected to the ethernet outlets. I had been using a wireless bridge with mine for a while, but in 2014 I moved into an apartment that had CenturyLink as the TV and Internet provider, the wireless bridge would crash the network. In the end that color inkjet printer ended up going to Goodwill. We didn't use it that much and the replacement ink cost almost as much as the printer itself.
Here lies the issues with Epson's "sustainability" claims. Having all these plastic empty or worse in the case of HP where either the printer as bricked if your ink cartridge was too old (for those printer users with an ink subscription) or attempting to use 3rd party cartridges. In those cases there was still useable ink in those cartridges which ended up in landfills. Or worse yet, the users would assume the printer went bad and buys a new one. No matter what all this e-waste being generated is far worse than the extra electricity  consumption of a laser printer.
via Ars Technica