The Maps+ Extension has quickly become one of my favorites. I use Yahoo!Maps quite frequently as I do many of the Yahoo! tools. Yahoo!Maps is great but when it comes to finding an address listed on a website it is a bit of pain:
Copy the street address for the site
Switch to the Yahoo!Maps tab and paste
Switch back to the other tab and copy the city and state OR zip code.
Switch back to Yahoo!Maps tab and paste
Click get map.
NO MORE! Once this extension is installed all you need to do is highlight the address (including city and state OR zip code) on the web page you are viewing. Right click and select from your context menu, 'View Map Of…' option. An I-Frame Windows (or tooltip) opens on top of the page you are viewing and displays a Yahoo API (beta version of Yahoo!Maps). You can pan by clicking and dragging or zoom in and out. When you are done viewing the map you can either click outside of the tooltip or close it via the X on the top right corner of the window The extension can be further customized via the options from the extension manager (Tools, Extensions, highlight Maps+, Click Options):
Set a default address for driving directions (driving directions feature does not appear to be active at this time)
Set the size (width and height) of the tooltip in pixels from 1 to the maximum allowed by your resolution. If your resolution is set to 1024×768 you can set the tooltip to a maximum size of 1024 (width) x 768 (height).
Below is an example of the map that is generated (note I have the tooltip size set to 400×400). From My Yahoo! Page, I had highlighted the address for East Valley Cinemas, 2140 North Arizona Avenue, Chandler, AZ 85225 and the right-clicked and selected View map of "2140 North Arizona Avenue, Chandler, AZ 85225" The orange outlined balloon shows the location.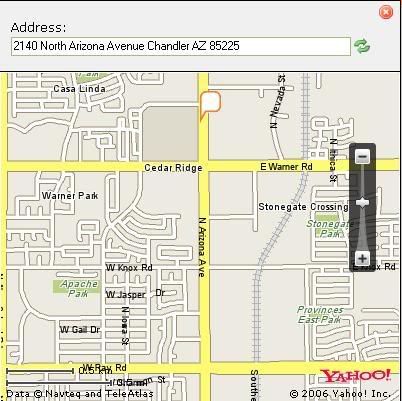 This extension works on Firefox builds 1.0 and above including the nightly builds on Bon Echo (future FF 2.0).