Note: If this page is displaying a bit funky hold the SHIFT key and click the 'Reload' button to force Firefox reload the page correctly.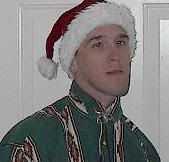 The Firefox Extension Guru's Blog has a new theme! On December 7th, WordPress introduced a new three-column theme called 2813 (Twenty-eight Thirteen) . Normally, I've not been a fan of these three-column themes, but my side-bar content has become quite lengthy in the past few weeks. Having the side-bar content broken-up and displayed in two columns does look better. Another neat feature of this theme is when you hover over a link it becomes highlighted.
Having two columns, I am better able to manage the layout of the side-bar content. The left column contains internal blog links such as the calendar, top posts, the category list as well as the stats and about page. The right column (with the exception of the search box) is all the external links. These include the featured links, Firefox Blogs and Links of Interest along with the FeedBuner feed link. I don't anticipate changing the theme anytime soon, although I may still be doing a little shuffling with the side-bar contents.
Happy Holidays!
The Firefox Extension Guru