[Part 1][Part 2][Part 3][Part 3.5][Part 4][Part 4.5]
This is part 3 of my multi-part series on the Firefox Add-ons Overhaul. At the bottom of the Part 2 entry I had added this update:
Update: The "preview" site is a work in progress and has actually been up (and down) for several weeks. The current extension list is NOT all inclusive, more may be added prior to the final release.
Since this post, the preview site has been updated and nearly all the extensions I had mentioned prior as being removed/missing are now included in the preview site. They have also added many new dictionaries which are to be used with the Fx 2 Spellchecker.
In addition, some of the new features added with this overhaul include the option to discuss and review (more on this later) the extensions. Plus the categories have been trimmed from 22 down to 12. However the biggest change is going to be the new review process and the introduction of the Sandbox. The process is described in more details in the article: Reviewing the Review Process. The flow-chart diagram below provides a good overview on how this new process will work: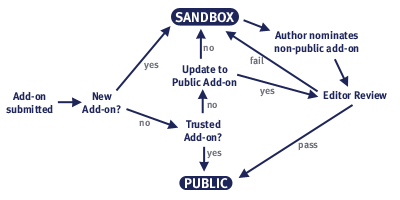 With this new process in place, updates to established (trusted) add-ons should be made available to the public a lot sooner. When Fx 2 was released back in October, there was a massive crunch as developers who had waited until after the release started putting through their updates. The delays were horrible, typically the add-ons were not reviewed and posted until anywhere from 5 to 10 days after they were submitted. The process should be much quicker when Fx 3 is released later this year. Not only will trusted extensions get put through quicker, but since these don't need to be reviewed this will free up the editors to review the new add-ons.

The only thing that still has not been "overhauled" is the search feature. Again, no Advanced Search option and the search results will be displayed in order of recently updated. Also until you do a search, your results are limited to 10 add-ons per page (when the results are displayed this can be changed to 5, 20, or 50 for that search). I do however, have one good thing to say about the new search and that is it can be done from anywhere on the site.
There are still some delays in getting the new site AMO v3 (Remora) live. For info about the delay here. So, I'll likely do Part 4 once this goes live which hopefully will be by the end of the week.