A little over a week ago I posted a tweak which would allow you to View OpenOffice.org Docs in Fx. Based on some of the feedback from comments and e-mails I've gotten on this, a lot of people didn't understand what this tweak did or it wasn't working.  I had got it to work when I opened an OpenOffice.org document from my local system.  However, when I tried to open a document from a remote system (website) Firefox wanted to download and open the file in OpenOffice. After a little tweaking, I've discovered there is one more step.  When you get the dialog box you need to select Open With and the choose Other… from the drop down.  From here you will need to locate your firefox.exe
I was trying to find an OpenOffice.org document I could use an example.  Every year at this time is the Major League Baseball Playoffs and for the past 9 years I have kept a spreadsheet on the playoffs (teams involved and the scores for each game).  Up until earlier this year it was an Excel Spreadsheet but since I have this unwillingness to use Microsoft products (yet I am still using Windows XP at home and work), I converted it into an OpenOffice.org spreadsheet.
There is a link below to the spreadsheet, follow these six seemingly simple steps below and the document will open in Firefox instead of OpenOffice.org (note: the Firefox dialog boxes you get may say Bon Echo, Firefox, Gran Paradiso or something else depending on what build you are using):
Step 1: Activate the Mozilla Plug-in from within OpenOffice.org via the Tools Menu then Options…

Click For Full Size
Step 2: Click this link: MLB Playoffs
Step3: When Firefox asks what you want to with this file select Open with and then from the drop down select Other…

Step 4: Locate firefox.exe on your machine (Windows users should be under C:\Program Files\Mozilla Firefox) and select firefox.exe click OK.
Step 5: Your dialog box should look similar to the one below.  Be sure to check the Do this automatically for files like this from now on. and click OK.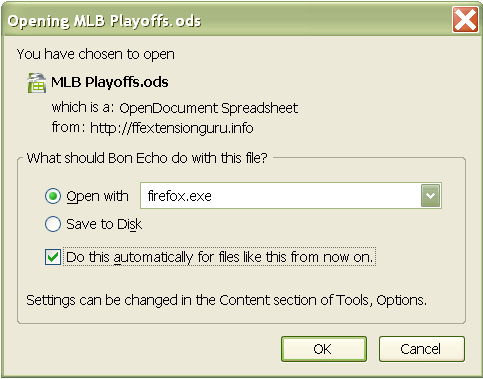 Step 6: If you have completed step 1, a new tab will open and the document will appear in the tab within a few seconds (maybe longer depending on your connection).