Up until the release of Thunderbird 3, there was not an automated way to install extensions from within Thunderbird. In the older versions you had to download the add-on, find it on your computer, open Thunderbird's Add-Ons Manager window and then drag the file into the window to install. Most 3rd party extension hosting sites do not offer the automated install for Thunderbird. You can setup your Thunderbird to have an 'Install' Button on the add-ons manager. It is turned off by default, but can be turned on via a very simple tweak in Thunderbird's Config Editor.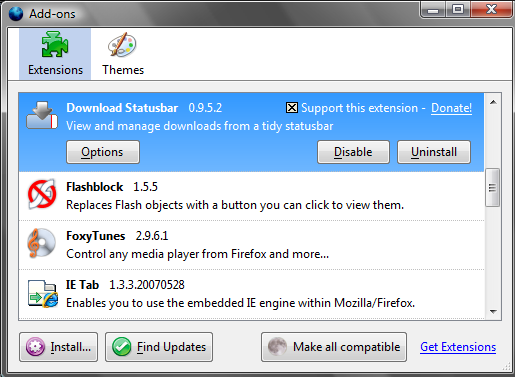 Thunderbird
From the Tools Menu (Linux: Edit | Mac: Thunderbird) selection Options… (Linux/Mac: Preferences)
Click on the Advanced tab
Click Config Editor… (you may get a warning message, click the I'll be careful, I promise! button.
Look for preference app.update.showInstalledUI
Double click it to change it to True
The 'install' button allows you to browser your computer to locate the add-on you want to install. Keep in mind is always best to get your add-ons through addons.mozilla.org whenever possible as these add-ons already have undergone a review process before made available and updates are served through a secure connection. Also, since it is already whitelisted you don't need to grant further access to other web sites.
Source: Mozilla Links