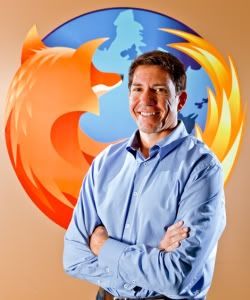 The big news this week is after six months of searching, Gary Kovacs, former general manager and vice president of mobile and devices at Adobe, and employee of IBM for ten years, has been appointed as the next Mozilla Corp. CEO.
Mozilla Corp. former CEO John Lilly explained why Kovacs was the most ideal replacement:
We've talked with many people through this process — most of them were exceptionally talented in many ways. But Gary's a special person for the CEO role, and here's why:

He's a veteran of the Web and rich media — he's been at the center of several cycles at Macromedia/Adobe and recently Sybase/SAP
He's got a deep background in mobile over the last 5 years or so — that's an incredibly important area where we've got a lot to prove in the coming years
He's been involved in changing big organizations, and with those organizations changing the bigger landscape — Macromedia, Adobe & Sybase
I am glad to see Mozilla is going to be putting more focus towards Mobile web. Just within the last couple weeks Firefox 4 Beta for Android and Maemo was released. I did find Percy's (Mozilla Links) comments interesting and share the same thoughts in regards to Flash:
I am personally glad to see someone who knows Adobe from the inside to come aboard. I am pretty sure Adobe has serious interest in making the web a better place, and is just coming to realize the open web is an opportunity as big as the lack of rich web media features was more than a decade ago.

On the other hand we all need Adobe's top class tools. A Flash version that outputs HTML5 code instead of SWF files would be a turning point in web history.
Now on to the subject of Firefox updates. It seems Mozilla has gone from one extreme to the other. In August and September there were 4 Beta releases for Firefox 4 and a couple updates in September for the current 3.5/3.6 builds. Firefox 4 Beta 7 (really?!) was suppose to be released at the end of September with the first Release Candidate build scheduled for this month. Right now future releases of Firefox 4 have been postponed. The upcoming Firefox 3.5/3.6 releases kept getting pushed back during the past couple weeks, the latest release date (subject to change) is October 19th. Important to note that the upcoming Firefox 3.5.14 once released will be the last update for the Firefox 3.5 builds.