Note: This article is going to be updated frequently over the next few days. Keep checking back for Updates and new (
) items since the original posting.
After months of delays and well over a year in development, Firefox 4 is about to be released. At first glance the new interface can seem a bit over-whelming even for veteran Firefox users. So, I have put together a quick guide to Firefox 4. I am going to really focus on those changes that are going to take a little getting use to.
Firefox Button – As part of an effort to increase screen space, the old menu bar has been replace in Windows Vista and Windows 7 with the Firefox Button. As shown below the new menu offers most of the frequently used menu options (note: Nightly Tester Tools is not a standard option) all in one place. Much like the newer versions of Internet Explorer, holding down the ALT key will display the 'classic' Firefox menu bar. For users who prefer the 'classic' Firefox menu bar,  right-click on an empty area on the tab or navigation bars and select Menu Bar.
Update: Windows XP users can have the Firefox Button. Simply, right-click on an empty area of the navigation toolbar and unselected Menu Bar. Thanks to zeepkist for this tip.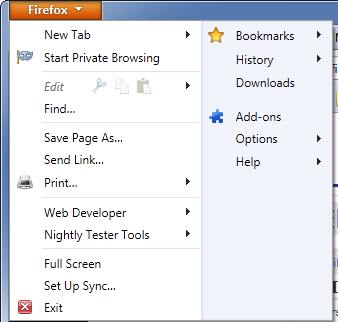 Bookmarks Button – Again this applied to Windows Vista and Windows 7. The Bookmarks Button replaces the Bookmarks menu option on the 'classic' Firefox Menu bar. The location and appearance of the bookmark button will vary depending if the Bookmarks Toolbar is displayed. By default the Bookmarks Toolbar is not displayed, the Bookmarks button is a small button at the end of the navigation bar.
Update: It is possible to keep the bookmarks button on the navigation bar even when the Bookmarks Toolbar is active. Installing the add-on bug582139 will give you to ability to move and keep the Bookmarks button on the navigation bar. This can be done immediately after install, no Firefox restart is needed. Thanks to Marika for this information.

When Windows Vista/7 users select to use the Bookmarks Toolbar (can be activated by right-clicking on an empty area and select Bookmarks Toolbar. The button is moved down to the Bookmarks Toolbar and is labeled as Bookmarks.

Bookmark All Tabs – Not a feature I use on a regular basis but zeepkist has pointed out the function has moved from the Bookmark toolbar and/or Bookmark button. to find it, you have to right click any tab and you will see your "Bookmark All Tabs" mentioned.
Organize Bookmarks – The functionality is still there, just under a new name Show All Bookmarks. This can be accessed via the Bookmarks Menu button or the main menu under Bookmarks.
Tabs on Top –  Much like Google Chrome the tabs are above the Navigation Toolbar by default. To change this right-click in an empty area on the tab bar or Navigation Toolbar and un-check Tabs on Top.
No Open New Tab on Double-Click – With Firefox 3.6 double-clicking on an empty space on the Tab Bar would open a new tab. This is not the case in Firefox 4 for sure on Windows and Linux (unsure if also applied to Mac). The CTRL+T short cut does still work. There had been a userChrome.css tweak posted, but that does not appear to work. Also haven't found any add-ons which restore this behaviour. This has been tagged as Bug 575248 since 3.7 Alpha 5 (June 2010).
Update: Testing done so far in Windows Vista, Windows 7 & Ubuntu seem to have determined that if Tabs on Top is selected double-clicking maxmizes (or un-maximizes) the Window. However, with Tabs on Top not selected then a new tab will be opened upon double-click.
Update (03/24): This seems to be hit and miss for users. I may have narrowed down to being something to do with having run the Betas (12/13) of Firefox 4 did something to the profile where having Tabs on Top turned off would allow users to open a new tab upon double-clicking on the tab bar. Apparently, this is not suppose to work in Firefox as I have determined by running Firefox 4 in safe mode as well with a clean profile.
No Drop-Down Menu on back/forward Button – In Firefox 3.6 and older there was drop-down menu on the back/forward button which allowed you to choose how far back (or forward) you wanted to go. That option is still there in Firefox 4 and is accessible by right-clicking on the back/forward button. Update: left-clicking and holding on the back/forward button will also bring up the menu. Thanks to Shawn I.

Drop-down menu on back/forward buttons in Firefox 3.6

Drop-down menu on back/forward buttons in Firefox 4.0
Combined Stop/Reload Button – This was on my original notes but somehow got left off. Much like Chrome, Firefox 4 features a combined Stop and Reload button at the end of the address bar.

For those who would prefer to have the two separate buttons instead of one, simply right-click on the button and select Customize…
Here you will see the button are separate while in the Customize mode. To keep them separated you need to move the refresh button so that is not first button to the right of the address bar or you can remove the stop button. You could also switch the order so the stop button is first followed by the refresh button. To revert back to the combined button you need to have the refresh button as the first button to the right of the address bar followed by the stop button. When you are finished click Done.
Update: The buttons can also be split if under the Show drop-down menu in the Customize Toolbar window either Text or Icons and Text is selected. Personally though either of those options take away from the clean look and make the navigation bar very cluttered looking. Thanks to Jorge Luis for this information.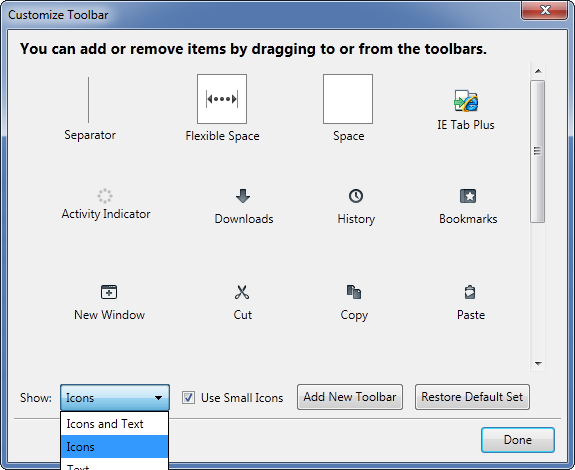 Add-on Bar – Back in Beta 7, Mozilla in an effort to increase screen space for Windows users did away with the classic status bar. Instead they replaced it with an optional Add-ons Bar. This is not the same as the status bar since this only displays icons/buttons for add-ons. Connection status messages were eliminated and link targets when a link was mouse-over were displayed in the address bar.
This change did not go over well with testers and Mozilla faced a lot of negative feedback about this change. So much so that in Beta 11, connection status messages were shown as an overlay above the add-ons bar. Then in Beta 12, link locations were also displayed as an overlay above the add-on bar.
By default (again to save screen space) the Add-on bar is not shown by default. To display simply press CTRL + / to un-hide/hide the add-ons bar.


The New Firefox 4 Add-on Bar
Update: For those who want the old 'status bar' the extension Status-4-Evar will do the trick.
The old Status Bar with the Status-4-Evar extension.
New Add-ons Manager – Firefox 4 introduces a newly redesigned add-ons manager. Really not much notable here other than the user interface has been restyled. However, the add-ons manager now opens as a tab instead of a new window.
No more Help > Check For Updates… – The check for updates process has been streamlined some what.  From the Firefox Menu (Windows XP, Linux and Mac access the Help Menu directly ) select Help then About Firefox.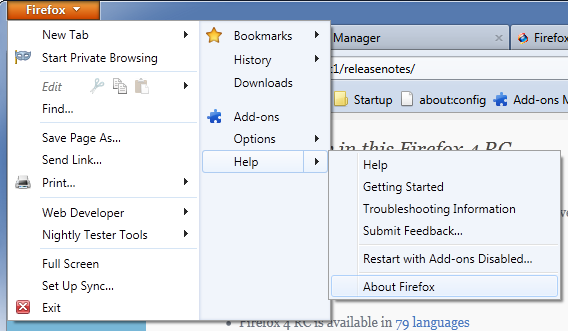 When the About window is opened, Firefox automatically checks for updates and will either display Firefox is up to date or there will be a message to apply update.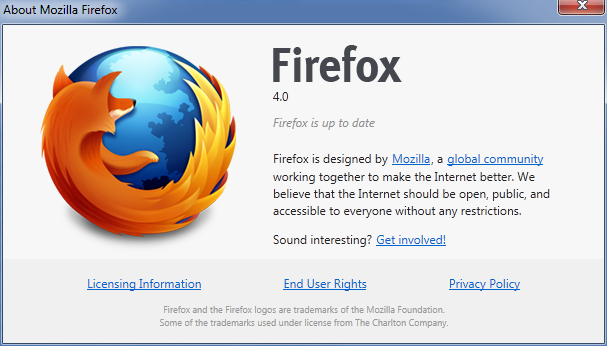 Now, Firefox 4 did introduce some nice new features such as support for the new HTML5 as well as these other notable features:
Windows XP Support – Unlike Microsoft, Mozilla is not going to shut-out Windows XP users from the newest version of their browser. Firefox 4 will run on Windows XP as well as Windows 2000.
Hardware Acceleration – Certain rendering operations are now hardware-accelerated using Direct3D 9 on Windows XP, Direct3D 10 on Windows Vista and 7, and OpenGL on Mac OS X. This should make for faster loading times.
New JavaScript engine– JägerMonkey is the new, faster JavaScript engine which should improve the loading and useability of sites using JavaScript.
Overhaul of Bookmarks and History Code – This was a major source of start-up lag many Firefox 3.5 and 3.6 (especially on Windows) user had complained about. The new code allows for faster bookmarking and startup performance.
App Tabs – This was a feature Mozilla borrowed from Chrome. By "Pinning" a Tab as an App Tab, the tab is grouped to the far left, and only the Favicon shows.  This is very useful when you have many tabs which you plan on keeping open all the time. To Pin/Unpin an app tab, right-click on the tab and select either Pin as App Tab or Unpin as App Tab. This can also double as a nice 'privacy' feature.

Switch to Tab – Numerous times I have so many tabs open and don't realize that the new tab I just opened is a duplicate of one already open (but not visible).  For example in the address bar I typed Hotmail, the new 'smart location bar' knows I already have this tab open and gives me the option to 'Switch to Tab'. Update: This feature works for tabs open in another Firefox window as well. Typing % in the address bar will also display a list of all the tabs you have open.

Tab Groups [Panorama] – Okay, I had forgotten about this feature as it was introduced very early on around the first beta as Tab Candy by Aza Raskin. This feature later became known as Tab Groups and Panorama the viewer. Panorama allows you to view thumbnails of your tabs in their respective groups and organize these groups (rename and delete groups as well as moving tabs between groups). See our detailed article (Tab Groups [Panorama]) for more information. Thanks to Mowe for reminding me about this feature.
Firefox Sync – Already included as part of Firefox 4 (you need to use Firefox 4 to setup) allows you to sync your desktop Firefox to your mobile device. Allowing syncing of your history, passwords, bookmarks and even open tabs across all your devices. Oddly, enough I have yet to use this feature. Even though I am running Firefox 4 Beta 5 for Mobile on my Android.