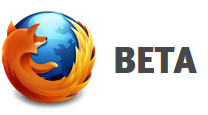 Firefox 8 Beta 1 (desktop and Android) has been be pushed to the Beta channel on September 29th, 2011. Some new stuff in Firefox 8 (see this post for more detailed information):
Twitter Search now a default search option to make searching #hashtags and @usernames easier.
Restore tabs on demand: Users can choose to load tabs only when selected, resulting in faster start-up times when windows with lots of tabs are restored.
Enhanced control of add-ons: Users will receive a one-time notification to review and confirm third party add-ons they want to keep, disable or delete.
Tab animations: Firefox makes it easier to re-order and tear off tabs with animated tab movement.
CORS for WebGL textures: Cross-Origin Resource Sharing (CORS) enables Web developers to load textures from other domains for WebGL in a secure way.
WebSockets updates: Firefox now prevents the use of plaintext WebSockets when created from an SSL page, which improves security for users.
HTML5 Native Right Click Menu: Web developers can now add items directly to the Firefox right click menu using simple HTML5 markup.
HTML5 media elements: Developers can add a lot of video and audio elements to a website without impacting performance
Read more about Firefox features for Web developers here.
Android – Master Password Support: This feature uses one master password to help users encrypt saved usernames and passwords for increased security.
Android – Home Screen Bookmarks: Users can add any bookmarked website to their Android Home Screen and launch it with one click.
Existing desktop Firefox Beta users should be able to update via Help > About Firefox or download Firefox 8 Beta here. Existing Firefox Beta for Android users should have a notice that an update is available or can obtain the update from here.
Firefox 8 Beta Release Notes:
Source: Mozilla Future Releases