Just updated my plugins on my main machine as advised in our post yesterday. When I ran the Adobe Flash Installer,I was asked about how to install updates then when it went to install I noticed it was also installing McAfee Security Scan Plus. I canceled the install (which also deletes the installer file) and went back into Firefox and re-downloaded the installer. Upon running again the first screen was the prompt about how to install updates and then clicking next (or was it continue) takes me to the installation.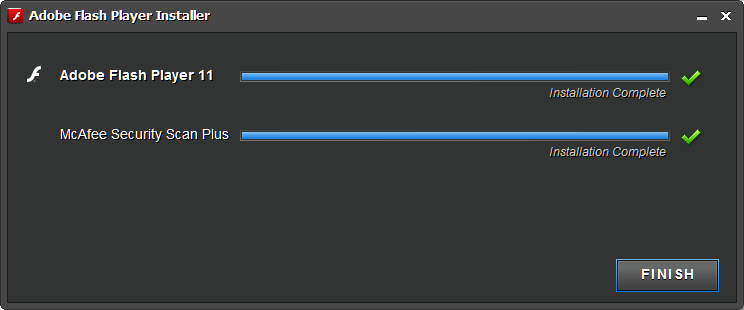 While it is not unusual for these plugins to come with bloatware, this is the first time I have not seen an option to opt-out of having the bloatware installed. At least they did disclose the fact it was being installed (more than I can say for
Avast! WebRep
). Once the installer has finished you will need to go into the Windows Control Panel and manually remove McAfee Security Scan Plus.
Update 06/09/12 – Thanks to zoid for pointing out that there is an option NOT to get McAfee Security Scan Plus. While it is in plain site on the download page, it can be easily overlooked with the grey background and being right above the big yellow Download Now! button. I wasn't really paying attention last night as I was just going through and getting the updated versions for several out of date plugins. Still bloatware none the less, especially since you have to opt-out.