For those too young to know about Clippy (Office Assistant) from Microsoft Office '97 here's a brief history. As an annual holiday tradition, Microsoft Corporation 245,12 -5,08 -2,03% features an 'ugly sweater' for sale and this year's features Clippy.
Microsoft's now-yearly tradition of releasing ugly sweaters with retro Windows patterns printed on them. Two years ago, the patterns were MS Paint- and Windows logo-themed. Last year's pattern paid homage to Windows 3.1-era Minesweeper. And this year's brings back an old frenemy: Clippy.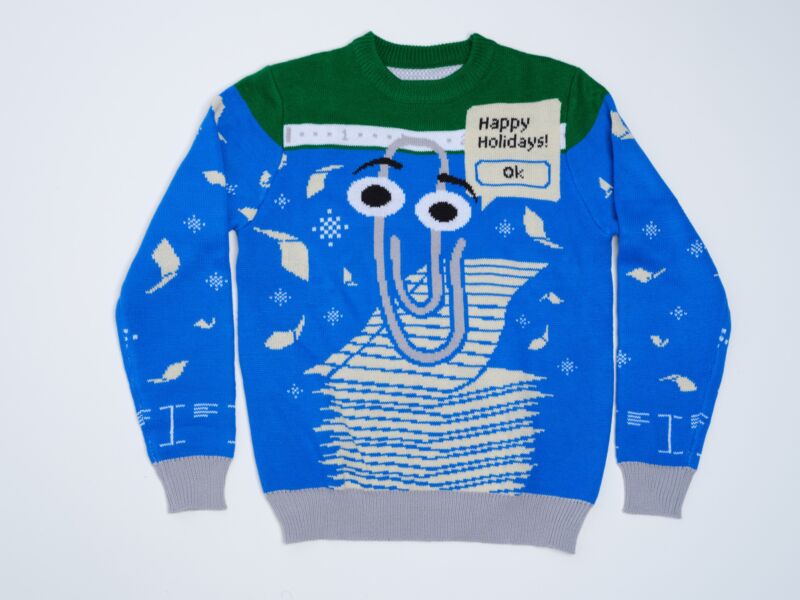 The Clippy sweater is available in sizes small through 3XL and costs $75 no matter what size you get. That's a bit on the pricey side, but unlike a lot of ugly sweaters, the Clippy one does appear to be an actual knit sweater and not a sweatshirt with a pattern printed on it. As part of its promotional efforts around the sweater, Microsoft also says it will donate $100,000 to the College Success Foundation.
Shockingly, as of writing the Xbox Gear Shop appears to be completely sold out of the Clippy Sweater in all sizes. No word yet if there are going to more or if this was a one time deal. You can sign-up via email to be notified if this comes back into stock.
via Ars Technica