Another great find by Percy at Mozilla Links. SearchLoad Extension adds some much need options to the Firefox search bar (or search box). Once installed, to configure go to Tools and then select Search Options. There are two sections Searchbar and Tabs.
The Searchbar section offer two options for the search bar. The first option well clear the searchbar after a specified amount of time (in seconds). This is a nice feature, but what I really like is the options to resent the search engine back to a default (in my case Google) after a a specified amount of time (in seconds). There have been many of times I have switched over to search on Wikipedia or BitTorrent and I forget to switch it back to Google.
The Tabs section controls how the search results are displayed. Note if you have previously used the method described in the Getting Your Search Results In New Tab article, you will find this is already setup. Note: New background tab means the search results are loaded in a new tab (in the background), but Fx does not switch over to that tab. Not sure what the Keep blank tab option does.
SearchLoad work with Firefox 1.0.X-3.1 and is about 6 KB.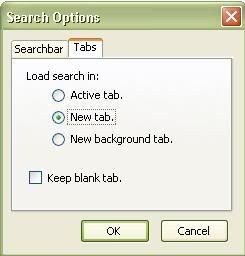 ---
Related Articles:
News Source: Mozilla Links