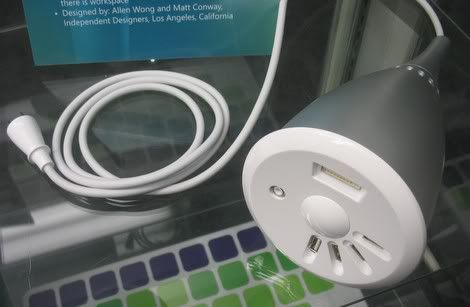 From the Microsoft's Windows Hardware Engineering Conference (WinHEC) in Los Angeles, Todd Bishop snaps a picture of the "light bub" PC which took second place at this Microsoft-sponsored PC design competition.
Interesting concept, the device is suppose to sit on your desk in the cut-out normally used thread cables through from the floor. It would sit upright with the ports pointing upwards. In theory you are suppose to be able to connect your mouse, keyboard, monitor and other peripherals into this device. This looks more like a hub then an actual "PC". Also looks like it would connect to your PC via a PS2 connection.
Nice idea, except it would never work for me since I don't a desk with a "cable hole" in it. Further 4 USB ports wouldn't work for me either. Half of the ports would be taken up by the mouse and keyboard (since I don't see any PS2 ports, they must need to be USB). Add my cable modem and Flash Card/Memory Stick reader and I have used all the ports. That doesn't even count a printer or scanner (neither of which I have). Then again most PC's normally only come with 2 to 4 USB ports so an additional USB hub would be needed if you wanted to connect more than 4 USB devices. Or else you could run those directly to the PC itself.
There is a link on Todd Bishop's Blog to Microsoft / IDSA PC Design Competition – Home Page, however the link has not been working at the time of this entry.
News Source: Tood Bishop's Microsoft Blog