JustZisGuy at Spread Firefox has copied Firefox 2.0.0.11 on floppies.
OK, so floppy disks are obsolete. These days USB flash drives can be used even on 95, NT 4, and DOS, but there is nothing quite like having software physically at your fingertips. To that end I printed up some 3.5″ floppy disk labels and created a setup self extractor using Winzip to span the install file across the disks.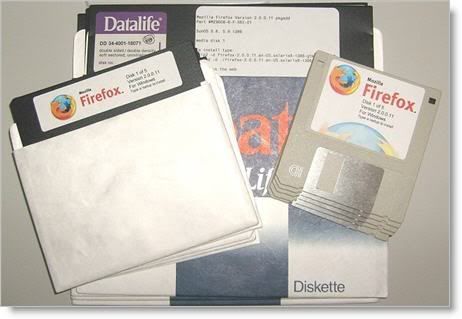 Using the WinZip self-extractor he was able to get Firefox on five 3½ disks or five 5¼ disks. While his 3½ & 5¼ drives did work, his 8-inch did not. But he did create a 'typewritten' label for the 8-inch dis. More detailed pictures can be viewed here.
News Source: Mozilla Links