While the majority of Firefox add-ons install automatically when you go to install the add-on, some don't always. Further, Thunderbird doesn't even have the functionality to do an automatic add-on install. So in those cases you have to download the add-on, find it on your computer, open Firefox's or Thunderbird's Add-Ons Manager window and then drag the file into the window to install. There is an easier way, both Firefox and Thunderbird have an 'Install' Button on their add-on managers, but by default it is turned off. To turn the button on requires a very simple tweak in the program's about:config file.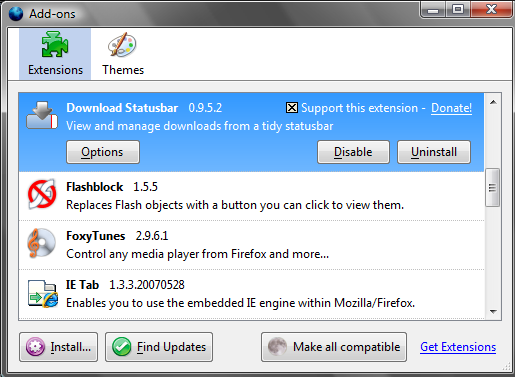 Firefox & Netscape Navigator 9:
Enter about:config in the location bar to access the advanced preferences
Look for preference extensions.hideInstallButton
Double click it to change it to false
Thunderbird
Download and Install the About:Config extension
Click the about:config button
Look for preference app.update.showInstalledUI
Double click it to change it to false
The 'install' button allows you to browser your computer to locate the add-on you want to install. Keep in mind is always best to get your add-ons through addons.mozilla.org whenever possible as these add-ons already have undergone a review process before made available and updates are served through a secure connection. Also, since it is already whitelisted you don't need to grant further access to other web sites.
Source: Mozilla Links