July 2008
In early July came the official word The Firefox 3 Download Day set a world record with 8,002,530 downloads within the 24-hour period. On July 1st, Firefox 2.0.0.15 was released. In mid-July came the first update for Firefox 3, Firefox 3.0.1 which as is regular practice was also coordinated with the release of Firefox 2.0.0.16. At the end of July, Mozilla released the first Alpha of Firefox 3.1 (Shiretoko).
And so at last the beast
fell
and the unbelievers rejoiced. But all was not lost, for from the ash rose a
great bird
. The bird gazed down upon the unbelievers and cast
fire
and
thunder
upon them. For the beast had been
reborn
with its strength
renewed
, and the followers of
Mammon
cowered in horror.
from The Book of Mozilla, 7:15
The Book of Mozilla is an 'Easter Egg' that will display a biblical like passage depending on which version of Firefox or other Gecko/Mozilla based browser you are using. The above passage describes, July 15, 2003, the day AOL shut-down Netscape browser division and the launch of the Mozilla Foundation and thus the rise of the Phoenix (predecessor of Firefox) browser.

Plenty of add-ons related posts in July. To start, a look at the 50 Add-ons…Change The Way You Surf The Web. Folks who upgrade to the Firefox 3.0.1 release were shocked to discover many of their add-ons were disabled. This massive headache was caused by a minor coding boo-boo by add-on developers.

Also took an in-depth look at these four add-ons:
August 2008
August brought four new Get A Mac ads:
Alex Polvi is best known for the Firefox 'Crop Circle'. His final final contribution prior to leaving Mozilla was a recreation/tribute to The Hamster Dance from 1998 using Mozilla Japan's mascot Foxkeh.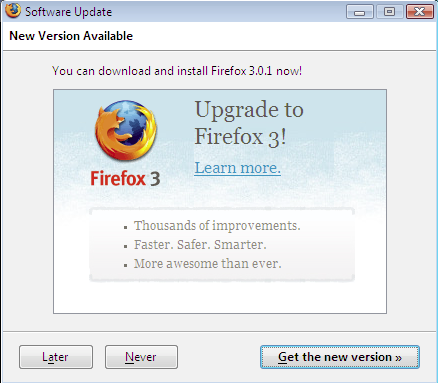 Towards the end of August Mozilla allowed Firefox 2.0.0.16 to upgrade directly to Firefox 3.0.1 via The Major Update.
When Shredder (Thunderbird 3) Alpha 2 was Released, the old Thunderbird logo was being used.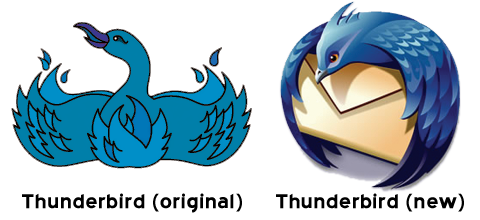 Click for full-size
While on the subject of Shredder, Mozilla Messaging had put out an updated Thunderbird 3 Milestone Schedule with a 'subject to change' disclaimer. As of December 9th Beta 1 was released which was 3 months after the original code freeze date for Beta 1.

I discovered there are two ways to edit Thunderbird message tags; the hard way or (had I looked in the options) the
easy way.
A couple add-ons related items:
AMO 3.4.7 was released, fixing a couple minor bugs: Not able to add selected add-ons to Facebook page & Phoenity Thunderbird theme listed as a Firefox theme.
The Unexpected installation error -203 had been plaguing Firefox 3 users trying to install add-ons. The fix was the same as that for prior add-on related errors.
September 2008
On September 2nd, Google Chrome Beta was released for Windows. After this initial review/evaluation I was flooded with comments prompting me to do a follow-up post, Thoughts: Chrome Not Importing Fx Settings the following day. In many ways, I think the release of Chrome has had a big effect on Firefox. Within days of the release of Chrome came Chrome Themes For Firefox. In response to Chrome's tab opening system (links open in new tab to the right of the current tab), a nearly three year old add-on Tabs Open Relative suddenly received lots of publicity. Mozilla announced 'Private Mode' would be coming to Firefox 3.1. This feature had been planned for later releases, but was also in response to Chrome.

Mozilla China/Mozilla Online debuted G-Fox, the newest Mozilla mascot.
The release of Firefox 2.0.0.17/3.0.2 was being delayed a week due to regressions found during the QA process. Shortly after the release was announced due to a major password related vulnerability in Firefox 3.0,2, Firefox 3.0.3 would be coming the next week. Two days later, Firefox 3.0.3 was released.
It seemed like Mozilla was moving 'full steam ahead' with the Firefox 3.1 (Shiretoko) builds with the release of Alpha 2 in early September. Further, Mozilla announced there were 2 Betas planned for Fx 3.1. Once again, the keyword here is 'planned'! Currently Beta 3 is scheduled for the end of January 2009 (which was the planned release for Firefox 3.1).
Gmail users rejoiced with the news of Firefox 3 could have Gmail to handle Mailto/Send Link… Ever wondered or been asked, "What Makes Firefox So Great, Anyway"?
The Tweaks section on ffexttensionguru.com had been completely redesigned and reorganized.
After very long and exhausted research, I finally discovered a way to disable the apostrophe from opening the quickfind bar. Oddly enough, I never seem to have run into this problem which has irritated so many Firefox users.

In September, Microsoft released several Windows/PC TV commercials. The first series of commercials were a multi-part story featuring former CEO Bill Gates along with comedian Jerry Seinfeld. The first ad took place in a Shoe Store and left many people scratching their heads dumbfounded as to what the heck the ad was about. It seems someone came up with a plausible
explanation. The second ad still featured both Gates and Seinfeld and was later split into two-parts. Somehow I don't think the Seinfeld-Gates ad campaign turned out the way Microsoft was thinking (what were they thinking?) it would. However, later that month Microsoft took a new approach with the I'm A PC campaign.
The 10th Anniversary Mozilla T-Shirts went on sale in mid September. At last check they were still selling them at the Mozilla Store and yes I own one!
---