Since the upcoming releases of Firefox 3.5, 3.6 and 4.0 are stalled at the moment, going to take this time to review some of the free software I've been using.
First up is 7capture. As the name implies it is a screen capture application and works with Windows XP, Vista as well as 7.  I was a big fan of FastStone Capture, but back in 2007 the newer versions were no longer free. Further when I tried to install it on my Windows 7 system, it did not work. So I started looking around for a new screen capture application.
After some hunting I came across 7capture and was really impressed. The only feature I wish it had was the ability to automagically run at start-up. What I do like about 7capture is how it automatically generates 'clean' screenshots eliminating Aero semi-transparent windows backgrounds (title bar will be opaque in the capture) while preserving the rounded corners of your application windows.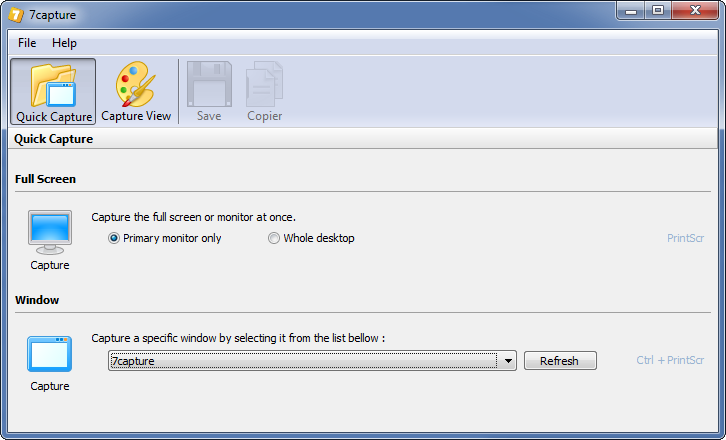 Once 7capture is running there are a couple ways to perform a capture. Pressing PrntScr will capture the whole screen (single monitor or entire desktop depending on your settings). Ctrl + PrintScr will capture the current active window. Alternatively, the capture of a particular window  can be performed from within the application by choosing the application window to be captured from a drop-down menu. Once a capture is performed it show as a preview within the application where it can then be saved or copied to the clipboard.
7 Capture is Freeware (100% free with no 'trial period') and is about 1.4 MB download and a little under 4 MB once installed.