I decided to take a look at the new Nightly builds for Firefox 7. I created a duplicate of my main profile using the ProfileManager. Everything was going smoothly until Firefox ran the compatibility check on my add-ons. All except the Nightly Tester tools were not compatible and as result disabled. I tried to over-ride the add-on comparability check via some about:config entries. This method had worked fine for Firefox 6 when it was released to Nightly channel.  However, after creating the entries for Firefox 7 and restarting Firefox, was not able to bypass the compatibility check.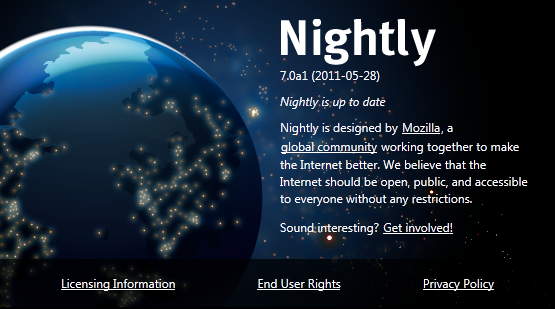 A while back VS had commented about using the Add-on Compatibility Reporter. This add-on was created by Mozilla and serves two purposes. First, it allows you to force your add-ons to work with any of the current developmental versions of Firefox. Second, it allows you the user to notify Mozilla that an add-on is compatible even though it is being reported as incompatible. This in turn will allow Mozilla to encourage the add-on developer to update their add-on's compatibility information.
Important: This add-on requires two restarts to fully start working. The first restart is the standard after installing an add-on (sadly Firefox still is behind the times compared to Opera when it comes to installing extensions) and the second restart is for the changes to the compatibility check to go into effect. Add-on Compatibility Reporter presently works with all Firefox developmental builds up to 7.0a1 (Firefox 8 Nightlys will not start until around July 5th and there will be an update for this add-on prior to this date).