For those of you using Fx 1.5.0.12 and are on the Beta (update) Channel, you should be offered the major update to Fx 2.0.0.4 soon (if you haven't already). Here is a nice screenshot compliments of Ryan at CyberNet News on what the Major Update will look like: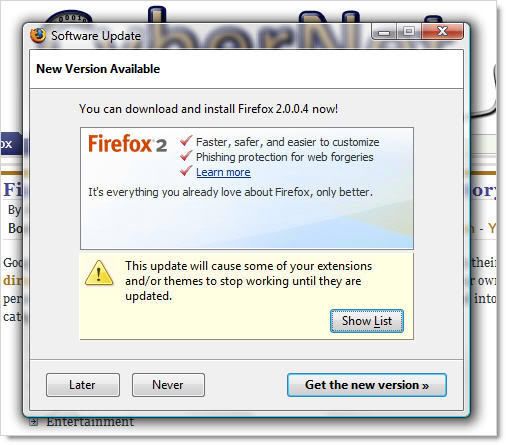 If a user selects "Later", they will be prompted again in approximately 24 hours.
If a user selects "Never", they are opting to skip this offer to upgrade and will not be prompted again for this particular release (2.0.0.4). If Mozilla decides to offer a 1.5.0.12 to 2.0.0.5 major upgrade, the user will be prompted again with that new offer.
If a user selects "Get the new version", they will be asked to accept the revised End User License Agreement (EULA) for Firefox 2 in order to proceed with the upgrade. The major update will then be downloaded and the browser restarted with Firefox 2.0.0.4 as the current version.
Again this is currently available to user of Fx 1.5.0.12 who are on the 'Beta' (update) Channel.  If you want to change your Update Channel, you will need to do it with the Update Channel Selector extension.  WARNING: DO NOT attempt to change the app.update.channel setting via about:config . Doing so could cause updates not to work.
News Source: CyberNet News >>Firefox 1.5 to 2.0 Upgrades to Start Rolling Out Today