Note: Most images can be viewed full size by clicking the image.

I decided to download and take Safari for a 'test drive' today.  Sadly, I was not that impressed with the browser.  It does have a few nice features but they do not outweigh all the problems and general annoyances.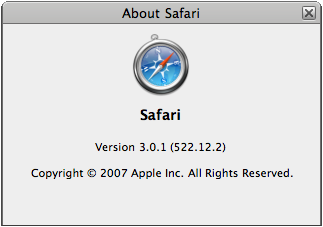 So there are some features Firefox does not have.  Safari displays  a 'progress/load bar' in the address bar (see last image for example).  Also, Safari will show a blue border around the active text box, including the address bar or search box.

One other nice feature is when viewing a site with an RSS feed, you can switch Safari into a Feed Reader mode by clicking the RSS icon in the address bar.

Once in the Feed Reader mode,  you can adjust how much of each article is displayed from just the title and author to a few lines up to several lines.  You can also sort the articles by Date, Title, Source or New.  Further, you can filter articles by time frame (today, yesterday, last seven days, this month and last month).  The search feature in the Feed Reader mode is neat as it will filter out articles that do not contain the search term entered.  The options under Actions: 'Mail Link to this Page' and 'Add Bookmark…' do not work.  They may work when the real version comes out.
The Preferences Panel is accessible via the Edit Menu (just as it is for Firefox on the Linux builds) instead of the Tools (note: there is not a 'Tools' menu in Safari) Menu as it is commonly found on most Windows web browsers.  The panel looks very similar to Firefox's and it is nice to have the open links setting right in the 'General' section.
Now, time to talk about the 'problems and general annoyances'.  First off Safari can be a huge memory hog,  way worse than Firefox and even Flock. At one point it was using 100 MB of RAM with heavy CPU usage.  Here are some more things that annoyed me:
The default download option includes QuickTime player.
No add-ons (don't realize how much I appreciated AdBlock)
No tool-tips when you hover over the buttons on the navigation bar.  You either have to click them to see what they do or go to the View Menu and select Customize Toolbar.. to get a description of what all the buttons are.
Limited right-click options
No option to always display the tab bar.
To open a blank tab is either via CTRL+T or via the File Menu, New Tab and then you will get the tab bar.
Clicking in the address bar or search box DOES NOT highlight the contents.  I found this very annoying as I would click in the address bar and go to type a new URL only to discover it was being added to end of the address already there.  This is also annoying for when you want to copy/paste a URL.
Could not log into Yahoo!  I have no idea why but Safari would not access Yahoo's secure page.  Clicking the '?' in the box brought me to the help which did not function correctly and never provided me an answer as to why this was happening.  I was able to log into other secure sites, but not Yahoo!

Finally,  everyone has commented how fast page rendering is with Safari.  Yes, it does seem to render pages a little faster, but I decided to see just how well it would handle.  Turns out maps.google.com was just too much for Safari to handle…
Again it is important to keep in mind that Safari for Windows is still Beta right now so they may be adding more features and fixing the bugs in the future. So, is the Safari browser worthy enough to stay on my computer? Since I am not hurting for hard drive space, I could leave it.  However, I doubt that I am going to use it much, unless I wanted to see how web pages would be rendered in Safari.  For now I will leave it on the computer, but doubtful it will get much if any use.