January 2007, started with lots of tips and tweaks for Firefox:
One of the reasons I really like and have stayed with WordPress is they are constantly adding new features. In January they added Snap (preview) feature to their blogs. This is one of those features that bloggers and readers either love or hate, which is why WordPress gives us the ability to disable this feature on our blogs.

Worst Bug of 2007 –This is what industry experts were saying about a flaw in Adobe Acrobat Reader in a Yahoo! News story on January 6th. As the year progresses we would learn there would be far worse bugs involving Vista, QuickTime and yes, even Firefox.

In their ever continuing quest to "Spread Firefox", Mozilla added some new products to their online store.


The Firefox Mouse Pad was (and still is) only $5 + shipping. (Click on image to be take the to the Mozilla Store).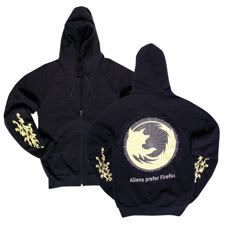 'Aliens Prefer Firefox'. The Firefox Crop Circle Hoodie has been discontinued and I am kicking myself for not getting one when they were available. I did drop a note at the Mozilla Store asking if they are going to bring these back, so we shall see.

I did review a couple extensions during the month of January:
Speaking of Thunderbird, Thunderbird 2, Beta 2 came out in the second half of January. During that time I was still doing the nightly builds of Thunderbird 2. I also did a brief review of the features that had been planned for Thunderbird 2. Seems there were a lot of people who wanted to try out Thunderbird 2 before it came out. A week after its release, over 100,000 people were using Thunderbird 2 Beta 2.
Windows XP Support after Firefox 3? In late January when Microsoft released Windows Vista, many people wondered how much longer Mozilla would support XP after Firefox 3. After all, Mozilla has discontinued support for Windows 95/98/Me with the (still) upcoming Firefox 3.
Finally, there were a couple Microsoft vs Mozilla debates: