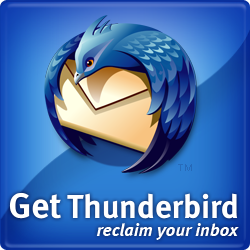 Mozilla Labs has released an update for Thunderbird 3.1 on June 21st. This release addressed:
Several security and stability issues.
For more information and to download see the Thunderbird 3.1.11 Release Notes.
IMPORTANT! Support for Thunderbird 3.0 has ended! Upgrade to Thunderbird 3.1. Support for Gecko 1.9.2/Thunderbird 3.1 will continue with a 3.1.12 release. Thunderbird 5.0 (formerly Miramar/Thunderbird 3.3)  is scheduled with a tentative release date in about one-week on June 28th.