Mozilla has released the next version of Firefox on November 8, 2011 with Firefox 8.0 for both desktop and Android. Firefox 7.0.1 desktop users can update via Help > About Firefox, while Android users will either be notified of an available update or can go into to the Market, select My Apps from the Menu and update Firefox that way. Users can also manually update via getfirefox.com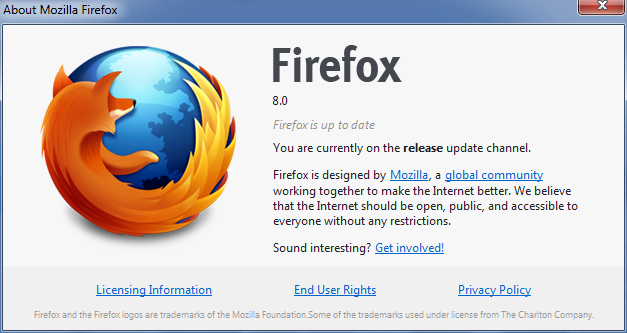 Lots of new stuff in Firefox 8.0 as we mentioned earlier this week. Here's a list of What's New:
Add-ons installed by third party programs are now disabled by default
Added a one-time add-on selection dialog to manage previously installed add-ons
Added Twitter to the search bar for select locales. Additional locale support will be added in the future
Added a preference to load tabs on demand, improving start-up time when windows are restored
Improved performance and memory handling when using <audio> and <video> elements
Added CORS support for cross-domain textures in WebGL
Added support for HTML5 context menus
Added support for insertAdjacentHTML
Improved CSS hyphen support for many languages
Improved WebSocket support
Fixed several stability issues
Fixed several security issues
The next major Firefox release will be Firefox 9.0 schedule for December 20, 2011.