This has to be by far the best extension I have seen for Thunderbird yet! I really hope this becomes a standard feature in TBird 3 as this makes viewing links in e-mail so, so easy! The extension installs a min-browser in the preview pane. When you are viewing e-mails the preview pane behaves as normal displaying the e-mail's content. However, click on a link in the e-mail and it will load up the page right there in Thunderbird.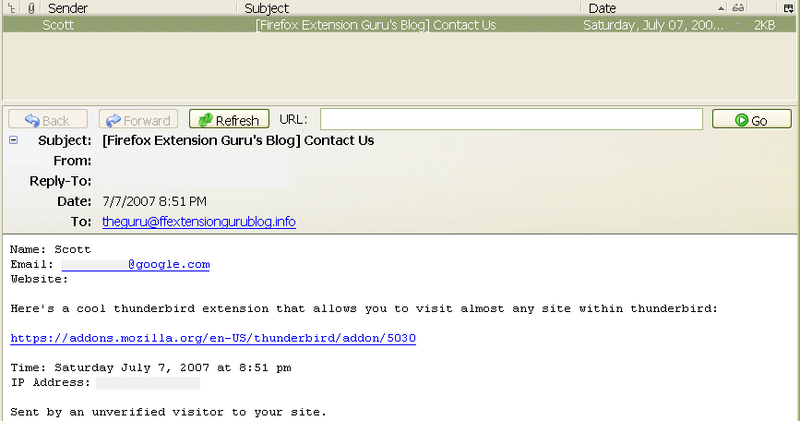 Click image for full-size version
Preview pane while viewing an e-mail
Click image for full-size version
Preview pane in 'ThunderBrowser' mode
I usually keep my Thunderbird open all the time, but not always my Firefox. Sometimes I forget I don't have Firefox open and click on a link in an e-mail. Firefox launches, but with a fresh profile. So then I have to close that session of Firefox when I am done viewing the link and relaunch so that I have all my settings associated with my profile. If you do want to view the link in Firefox (or IE) simply right-click on the link and select Visit In Browser.
ThunderBrowser works with TBird versions 1.5-3.0a1.

IMPORTANT: TBird currently does not support automatic XPI installation of add-ons. DO NOT click on Install Now link on the add-on page as this will cause Firefox to try to install the add-on (which likely won't work). Instead, right-click on the Install Now link, Save Link As…, and save it to the desktop. Toggle over to Thunderbird and open the add-ons manager (via Tools menu). Drag the downloaded add-on into Thunderbird's Add-On Manager to install. Restart Thunderbird and you will be ready to go.

Thanks for the tip Scott!