As noted in yesterday's Firefox Release Recap, Firefox 8 will be released on Tuesday, November 8th. There are several new features coming in this release and there are couple that really standout. These include additions to the add-ons installation and management process as well as only allowing tabs to load when selected upon restart.
Add-ons check first run
On your first run after you have updated to Firefox 8, you are going to see an add-ons screen similar to that below. This will let you know which add-ons are currently installed, if they are compatible (or can be updated) and who installed them. Further, you have an option to choose to keep the installed add-on or remove it (always good to do a little housekeeping by removing add-ons you are no longer using).
Third Party Add-ons Install Confirmation
In addition, it seems like every program now has a Firefox add-on. Most of them are decent enough to ask you if you want to install the add-on others such as Avast (WebRep), Microsoft (.NET Framework Assistant) and Oracle (Java Console, which you only need if you are Java developer) silently install add-ons into Firefox without your knowledge or consent. Sometimes though, you are in a hurry to get the program installed and miss that little check-box that is ticked to install the add-on. With Firefox 8, when 3rd party program attempts to install an add-on, Firefox will ask if you want to keep this add-on or remove it.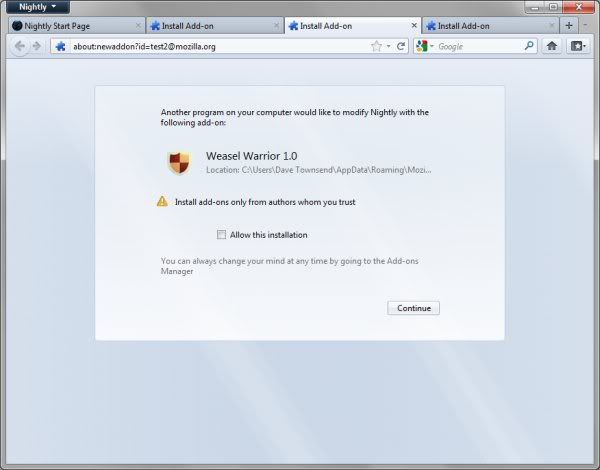 Don't load tabs until selected
For those who either have several 'home pages' or use the Show my windows and tabs from last time, you will find this to be a really nice feature. From Tools (Edit on Mac/Linux)  Menu go to Options… on the General Tab, just below the start up preference is a new option Don't load tabs ubtil selected. When this options in enabled (which it is not by default), all your tabs will show in the tab bar, but they will not be loaded until you click on them. This is handy if you have a couple tabs that have a lot of content to to load (or on a slow server) that can cause the browser to bog down and prevent the loading of other tabs.
Some other minor features coming in Firefox 8 include:
Twitter is now in the search engine drop-down box
Improved tab animations
Improved performance and memory handling when using HTML5