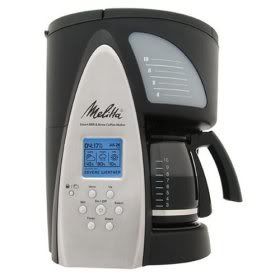 Melitta ME1MSB Smart Mill & Brew 10-Cup Programmable Coffeemaker
Bit of a slow news day in the Mozilla world, so I was looking at Todd Bishop's Microsoft Blog and came across this entry, Now brewing: A Microsoft-powered coffee maker. Oh this is scary, a coffee maker with Microsoft software technology! I could see it now, wake up in the morning, stumble into the kitchen and instead of your usual pot of freshly brewed coffee, the coffee maker display is flashing an error message. You frantically dig through all the drawers looking for the manual and hunt around for the troubleshooting section to find out about these error messages:

Access Violation – You may be using a non-registered or counterfeit version of Microsoft Coffee 2007 software. You will need to provide a valid 16-digit validation product key number or purchase a valid copy of Microsoft Coffee 2007.
Fatal Exception – There was a problem with the electrical supply to the appliance, which may have caused damage. While it may be possible to continue using the appliance, it is strongly recommend to have a Microsoft certified technician inspect the appliance. We also recommend to have your home/business electrical system examined by a Microsoft certified electrician.
Illegal Operation – The appliance has malfunctioned for no apparent reason. While it may be possible to continue using the appliance, it is strongly recommend you have the appliance examined by a Microsoft Certified Technician.
Firmware Out of Date – The appliance's internal software is more than six weeks old. Please connect the appliance to the Internet so that it may get the latest updates. WARNING: If you are running an unregistered or counterfeit version of Microsoft Coffee 2007 you will get an 'Access Violation' Error. Please register the appliance or consider purchasing a legitimate version of the appliance.
Invalid Water, Filter or Coffee Detected – Please be sure you are only using genuine Microsoft Brand products with your appliance and press any key to clear . The forced and intentional use of third party products could cause damage to the appliance and void the warranty.
At this point you are wondering why you shelled out the $250 for this top-of-the-line and the must have new 'toy' coffee maker. Especially since you could spent the same money and gotten the Microsoft Entertainment Wireless Desktop 8000. So you end up digging out your 'old school' coffee maker which allowed you to use your own coffee, filter and water, then plug it in and flip a switch. This one ends up in the garage next to the $2500 PC you bought last year that doesn't have the resources to run Windows Vista.